Microsoft

Usha Rama College of Engineering and Technology got Platinum Certification for training the students to equip with knowledge and skills of Microsoft. The Training part in "Cloud Competency and related courses" is carried out under the Supervision of Microsoft. Microsoft Business Partners had told that Usha Rama College of Engineering and Technology meet all the Qualifications needed to Train the students on Microsoft Technologies on Wednesday. Microsoft Business Partners handed over the Certification to college Chairman Sunkara Rama Brahmam and Principal.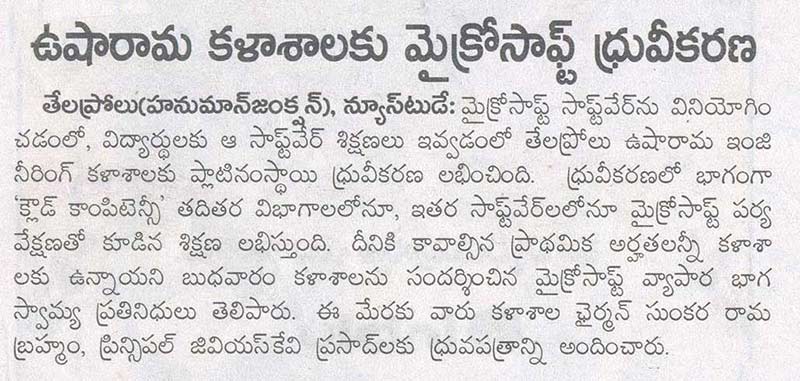 MICROSOFT CERTIFICATION PROGRAM - MICROSOFT TECHNOLOGY ASSOCIATE (2014-2015)
Microsoft Learning Partners
Whether you want to learn a new Microsoft technology, prepare for your Microsoft Certification, start a new career in IT, or improve your marketability, Microsoft Learning Partners can help you achieve your training goals. Microsoft Learning Partners are the only ones in the market with the latest Microsoft Official Courses. They offer a breadth of solutions to suit your training needs, from classroom training to distance learning.
Find a Microsoft Learning Partner near you
World-class instructors - Microsoft Certified Trainers have completed rigorous training and have met stringent technical certification requirements. They provide the only authorized training using Microsoft Official Courses. Look for the official Microsoft Learning Partner logo identifying their courses.
Direct-from-the-source courseware - Microsoft Official Courses are job-relevant, technical training materials based on specific job roles or technologies. And, when you sign up for training on select Microsoft Official Courses, Microsoft offers additional online companion content for you to access virtually anytime, anywhere, from almost any device.
Microsoft Technology Associate (MTA)
The fundamentals of IT
What is MTA?
Microsoft Technology Associate (MTA) is an introductory Microsoft certification for individuals considering a career in technology. MTA certification addresses a wide spectrum of fundamental technical concepts, assesses and validates your core technical knowledge, and enhances your technical credibility. Note MTA exams do not qualify for MCP certification, nor are they a prerequisite for MCSA or MCSD certification.
NO OF VOUCHERS PURCHASED ON 03-SEPT-2014: 500
NO OF VOUCHERS AVAILABE AS ON DATE 01-MAY-2015: 181
DATE OF EXPIRY OF VOUCHERS: 03-SEPT-2015
MTA CERTIFICATION Results
S.No
Training Dates
Certification exam
No of students appeared of training
No of students appeared for the exam
1
26,27 & 28 of Sept 2014
MTA 98-361 Software Development Fundamentals
156
70
2
16,17 & 18 of Nov 2014
MTA 98-375 HTML 5 App Development
203
07
3
March 2015
MTA 98-364 Database Fundamentals
534
243
(as on 01-05-2015)
Results of Students as per the department considerations
S.No
Certification Course
Branch
No of students appeared
1
MTA 98-361 Software Development Fundamentals
2
MTA 98-375 HTML 5 App Development
CSE
6
3
MTA 98-364 Database Fundamentals

CSE
ECE
IT
ECM
MECH
CIVIL
EEE