TATA Technologies

High lights of TATA TECHNOLOGIES Lab
TATA Technologies made MOU with USHA RAMA COLLEGE OF ENGG and TECHNOLOGY on BRIDGE (Bringing Industry Define Graduate Engineers) Program
Collaboration of TATA technologies with URCET is First time in South India and third College in India.
An Exclusive High configuration, State of the art Lab for center of competence was established.
TATA Technologies Provides the following Software (AutoCAD, CATIA, 3DVIA, DELMIA, CAE-MSC, ENOVIA.)
Students will be able to Create and edit their own designs Using these softwares.
Students not only create features needed for plastic part design but they learn the process behind the design.
Students will get trained on various manufacturing process in virtual world which can't be possible in real world.
Practical knowledge required in the real time world will be the main focus of this training
World class training provided under the guidance of Tata Technologies.
Students will find opportunities in various MNC's and R&D centers.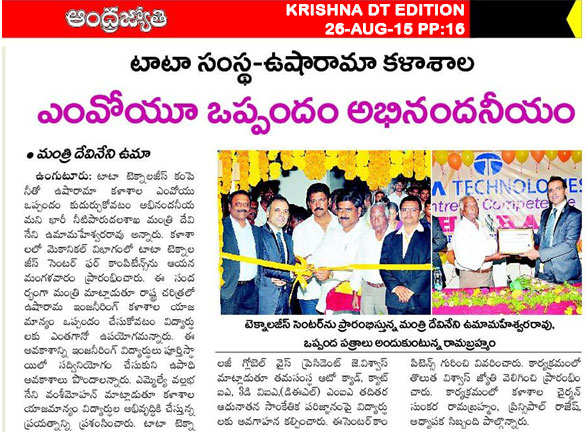 Center for Bringing Industry Defined Graduate Engineers (BRIDGE)
Sl. No.
Requirement
Description
1
R&D Department
At a time 20 licenses to access for R&D activities and for practice
2
Role Based Training

Design
Analysis
Manufacturing
Project Management
Technical Publication
At a time 15 to 30 students can be trained on each role

3
Mechanical Department

Introduction to mechanical design and NC machining
Infrastructure development for exclusively Mechanical department with a capacity of 60 at a time

4
Creating mass user base for 1st year
General 3D Design
Training Details
Sl. No.
Requirement
Trigram
Description
Qty
1
Mass User Base
UDK
PLM Discover
40
2
Role Based Training
UMC
CATIA Master
20
Phase-1
3
Role Based Training
UAC
CATIA Advance
20
4
Role Based Training
UMD
DELMIA Master
20
5
Role Based Training- Analysis
MSC FEA
MSC FEA Academic Bundle
50
6
Training/Assessment and Certification
Igetit
IGETIT Business Bundle
120
Trainings :